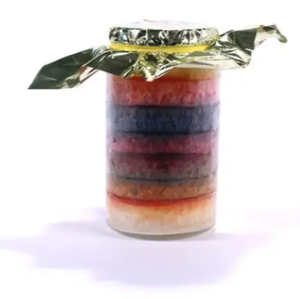 PREORDER.  ANTICIPATED ARRIVAL THE END OF DECEMBER.
Don't start your New Year with last years energies!
This beautiful candle is handcrafted and infused with Reiki energies to help your 2023 get off to the best start possible!
Made with Palm Oil, this candle was prepared with seven colors that represent abundance, prosperity, protection, strong love, wisdom, good health and success.
The use of palm oil as a primary ingredient gives these candles a unique look and burn.
Many consider these candles to be among the strongest and most effective. This is especially true when their size is taken into account.
Super Charged and Super Scented to bring you what you most need in life.
These candles are 6 1/2″ in height and 2 1/2″ in width. These candles come with easy to follow instructions in English and Spanish. These candles can burn for 72 hours (3 Days).
A SUPER CHARGED CANDLE for all your needs and desires to be taken care of at once. With 49 astral essences to create the most potent candle to overcome difficult obstacles, blocks, curses, spells and evil forces working against you all the time. This candle attacks negativity.