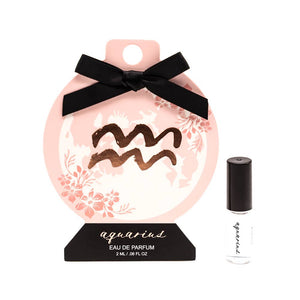 Gift mindfully with this cute Zodiac Perfumette Card. Ideal for stocking stuffers, valentines, teachers gifts, bridesmaids and more! Includes a "To:" and "From:" on the back for easy gifting.
● 80% chance of liking your own sign! Scents developed using blind studies - not random! ● Formulated by a migraine sufferer - no irritating ingredients.
● 50-100 oils in each.
● Consciously made without parabens, phthalates, gluten. Vegan and cruelty-free.
KEYNOTES: Aries: Cinnamon, Amber, Vanilla Taurus: Geranium, Lily of the Valley, Sandalwood Gemini: Grapefruit, Clementine, Mimosa Flower Cancer: Rose, Violet, Plum Leo: Honeysuckle, Gardenia, Mandarin Virgo: Apple, Pomegranate, Pink Magnolia Libra: Peach, Mango, Freesia Scorpio: Oak Moss, Ylang-Ylang, Patchouli Sagittarius: Strawberry, Jasmine, Musk Capricorn: Yuzu, Sage, Lavender Aquarius: Verbena, Cardamom, White Fir Pisces: Neroli, Water Lotus, Cucumber